Ownership Opportunities
Become an Equity Member of The Lodge at Strum Island

Private Island Rental in Mahone Bay; As Seen on HGTV's Island Hunters

Built in two phases, this six-bedroom, six and a half bathroom, The Lodge at Strum Island home was a labour of love built over four years.
Our private island rental on Mahone Bay promises elegant interiors and stunning outdoors. The main home comprises two stories of living space with an expansive third-floor master suite and lounge. The fourth-floor offers an observation tower with spectacular 360-degree views and, above the tower is a traditional lighthouse-inspired Widow's Walk.
Particular attention was paid to incorporate furniture grade standards into the construction of this sturdy home. When you enter the property, you will be welcomed by one-of-a-kind walnut-carved bar that adorns the open interior, with a media room, exercise area and an impressive kitchen that will satisfy the burgeoning menu of a budding master chef or the private musings of an intimate, weekend brunch. Such attention to detail is purposefully expressed throughout the home.
Our private island rental is a world on its own, while still offering accessibility. So, if you are seeking exclusive peace and privacy in your secluded paradise in Mahone Bay, The Lodge at Strum Island welcomes you!

Features
Ten Acres
Ten Thousand Square Feet
Six Ensuite Bedrooms and Powder Room
Stunning Great Room, Bar, & Signature Fireplace
Gourmet Kitchen and Dining
Butler's Pantry
Library Room and Tower
Rose Hut with Hot Tub
Boat House Apartment for Staff
Three Minutes from Mainland Wharf by Boat
Five Minutes to Mahone Bay Town by Car
Browse through our
gallery
to take a look at our property.
Private and Exclusive for Groups
Rent your private villa at The Lodge at Strum Island
Activities
The Lodge at Strum Island is ideal for everyone, with numerous
activities
for family, business colleagues, and guests of your private retreat. Although the island is remote in its feel, it offers countless engaging pursuits. Some adventures you can embark on at our picturesque Mahone Bay location are:
Big & small game hunting:
If you're someone who likes the thrill of hunting, The Lodge at Strum Island has endless options for you. With plenty of ducks and waterfowl in and around the island's pristine waters, your hunting trip will never be wanting for the game.
Sportfishing:
The Lodge at Strum Island is the ideal location for those who enjoy sportfishing. You can enjoy a pleasant day in the inland waterways or visit the deeper ocean waters. You will find unlimited varieties of fish like Mackerel, Cod, Hake, Pollack, Catfish, and Boston Bluefish in the latter.
Sailing:
There is a reason why the Mahone Bay area attracts boats from around the world. The water around the island is ideal for both amateurs and experts. You can practice your sailing by yourself or enjoy the activities at The Mahone Bay Classic Boat Festival, The Tall Ships Festival and Chester Race Week.
Oak Island treasure hunting:
The nearby Oak Island has been a source of mystery and adventure for the past 200 years. It has piqued the interest of many, including the likes of US President Franklin D. Roosevelt. You can enjoy a guided tour on the island and experience the mystery for yourself.
This is not all. Staying on the island gives you access to countless adventures and activities. You can visit the
Peggy's Cove Village and the Peggy's Point Lighthouse
, walk along Dock Street in
Shelburne
, learn about endangered birds at
Kejimkujik National Park Seaside
, enjoy a performance at the
Astor Theatre
in Liverpool and more. If you'd like to learn more about what you can do on and around our private island on Mahone Bay, we would be delighted to have a chat.
Things To Do
Be the witness of serene beauty and indulge in sports adventures.
Nearby Towns and Attractions
What makes The Lodge at Strum Island special is that it offers privacy that is tailored to your needs, whether they are for your family, business, or guest retreat. You can spend your days unwinding to the sound of lapping water while still being able to access nearby attractions. The two quaint
towns
close to the island are: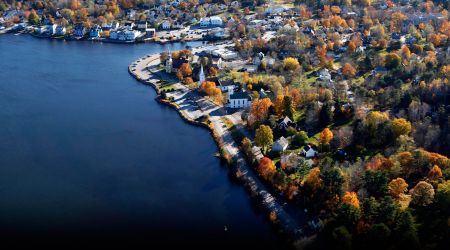 Mahone Bay:
Mahone Bay is an enchanting town that is deeply rooted in history. Its name comes from the French ' mahonne' (barge), a tribute to the low boats of the pirates that used to visit the area. Incorporated as a town in 1919, it is now home to a population of just 1000. The residents are mostly made of a quiet community of retirees.
---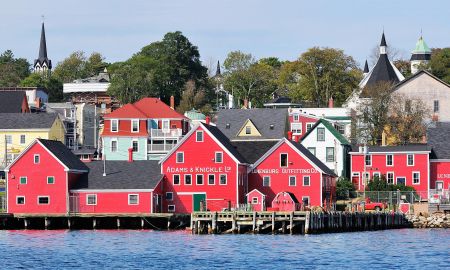 Lunenburg:
Like Mahone Bay, Lunenburg, NS is a town known for its historic charm. In fact, the United Nations Educational, Scientific and Cultural Organization (UNESCO) classified it as a historic site in 1995. Its beautiful architecture and civic design make it a perfect specimen of planned British colonial settlement in the country.
If you'd like to find out more about the unique charms of the attractions around our private island on Mahone Bay, please
get in touch
with us.