Luxury Retreat on Mahone Bay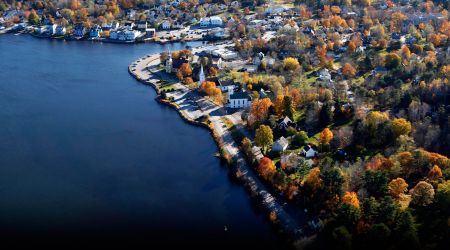 The Lodge at Strum Island is a luxury retreat on Mahone Bay that gives you the experience of maximum comfort and minimal invasion of privacy. We have carefully crafted the lodge for clients looking for the serenity of a private island, while still accessing luxury and world-class amenities. Our meticulously designed property offers comfort with 6-ensuite bedrooms, a Great Room, bar, a fireplace, powder room, library, Rose Hut with a hot tub and more. The estate is located on a stunning private island on the waters of Mahone Bay.
What makes your stay with us special is the wholly tailored service we offer. You get to choose the degree of privacy and luxury you want. We can arrange for trained staff, who will take care of your every need. With us, a world-class chef can make all your meals in our gourmet kitchen, that includes our world famour Nova Scotia lobster and mussels, and a trained bartender can make drinks for your friends and family if you'd like. You can also enjoy the serenity of complete privacy, with minimal or no staff on the site.
If you'd like to learn more about our luxury retreat on Mahone Bay, please
get in touch.
---

The Island Experience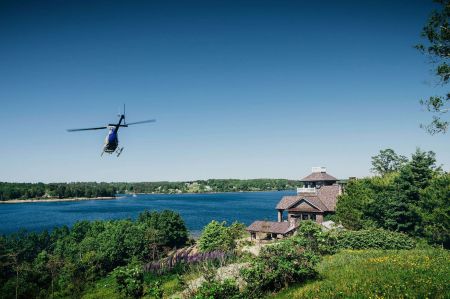 The Lodge at Strum Island is private, and its natural beauty is breathtaking. When you choose to stay on our property, you can enjoy the island life in its true form. You can go on hikeing on our trails by yourself or with your family and friends, Take in the beautiful landscape and panoramic views of the ocean, with majestic sunrises and sunsets. With undisturbed tranquility and complete safety, you can spend a night outdoors, looking at the stars, or have a bonfire under the moonlight. You can enjoy a cup of tea while enjoying the gentle lapping of the water. Not only that, but the pristine waters make for swims that you will remember for a long time to come. For those who like to engage in adventure, the area has lots to offer. Please read more about the activities you can engage in below.
---

Big & Small Game Hunting, Ducks and Waterfowl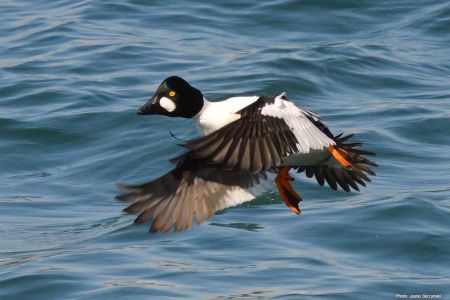 The common goldeneye, like the Barrow's goldeneye, is named for its brilliant yellow iris. Common goldeneyes fly in small compact clusters, with their wings making a distinctive whistle at every wing beat. Male common goldeneyes have blackish iridescent green heads with a white circular patch between the eye and the base of the bill. The breast, sides, belly and patch across the secondaries and secondary wing coverts are white. The back, rump and upper tail coverts are black and the tail is grayish-brown. The bill is black and the legs and feet are yellowish. Female common goldeneyes have chocolate brown heads, a whitish neckband, and speckled gray back and sides. The upper wings are brownish-black with the middle five secondaries coloured white. The bill is blackish, becoming yellow near the tip, and the legs and feet are yellowish.
---

Sportfishing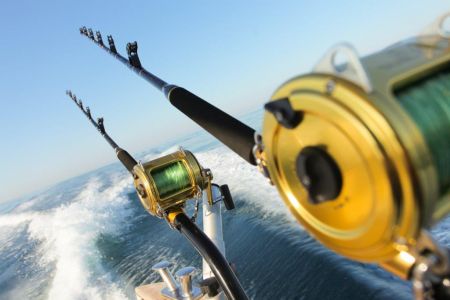 Nova Scotia is a worldwide destination for sportfishing / deep sea fisihing. With 6,700 lakes and 130 rivers, the province offers a variety of sportfishing for any level of angler. Whether it's an afternoon of solitude, drifting through the inland waterways, or a more adventurous outing of deep sea fishing, the opportunities for memorable experiences are limitless.
Speckled Trout can be found in Nova Scotia's freshwater and is a favorite among local fishermen. Rainbow trout and smallmouth bass are native both species also found into the area, but if ocean fishing is preferred, Mackerel, Cod, Hake, Pollack, Catfish, and Boston Bluefish.
In the deep ocean, you'll find the real sportfishing. Blue Fin Tuna, Swordfish, and several Shark types, like Great Whites, populate these waters. Anglers from all over the globe visit this area just to catch some of the lucrative fish, and they keep coming back.
Each year, from June to October, schools of giant Bluefin Tuna return to Nova Scotia's shores, giving sport fishermen the chance of a lifetime – to hook the catch of a lifetime. Sport fishers from around the globe travel here year after year to battle with these creatures – some weighing in excess of 1,000 lbs.
In 2013,
Sport Fishing Magazine
named Nova Scotia as one of the top 10 places in the world to catch giant tuna. (
Read More
)
---

Sailing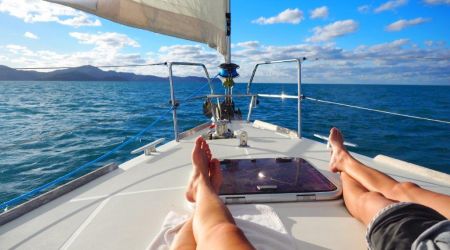 Nova Scotia, and Mahone Bay in particular, offer amazing opportunities for all levels of sailing. The islands provide great shelter for the novice while the open ocean poses welcome challenges for the more experienced nautical type.
In addition to personal sailing, the area has numerous events that attract boats from around the world. Come experience The Mahone Bay Classic Boat Festival, The Tall Ships Festival and Chester Race Week.
---

Oak Island Treasure Hunting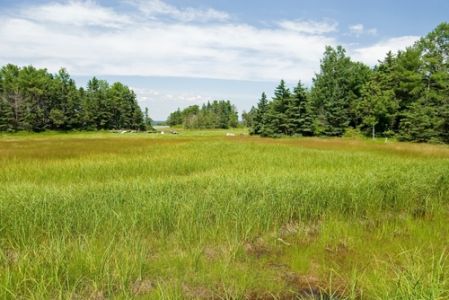 History of Oak Island's Treasure
For over 200 years, Oak Island, Nova Scotia has enthralled, delighted and frustrated those who have dug in its famous Money Pit looking for the renowned Oak Island Treasure.
Oak Island is one of over 350 islands that dot picturesque Mahone Bay. This unassuming dot of land was paid little attention until 1795, when a teenaged boy discovered a circular depression in the ground and started digging. As he and his friends dug, they discovered layers of logs and what were believed to be pick scrapings along the walls of the pit. Soon after, another group of treasure seekers took over, convinced that the so-called 'Money Pit' was the site of long-lost buried treasure, possibly belonging to Captain Kidd or Blackbeard. They even claimed to have found a flagstone etched with symbols that, according to an amateur cryptologist, translated into "forty feet below, two million pounds lie buried". However, persistent flooding forced the group to abandon their search.
Over the past 200 years, despite the difficulties and risks (six men have died while digging), there have been many determined efforts to find Oak Island's treasure, even attracting the interest of US President Franklin D. Roosevelt. Today, the island is privately owned and visitation is only through guided hiling tours, along our trails but the search for treasure continues and likely won't stop until the mystery of the Money Pit is solved.
Read More
.
Your Must See & Do Checklist
World-Class Luxury


Our luxury retreat on Mahone Bay is the perfect choice for those looking to get away while not compromising on their amenities. When you stay with us, you enjoy countless advantages such as:
Individualized service:The services that we offer are as different as the guests who stay with us. Whatever your needs might be, we will meet them.
Endless space:The best part of living on a private island is the amount of space it offers. We provide 10-acres of beautiful space that's yours to roam and hike for as long as you'd like.
Privacy:At The Lodge at Strum Island, you're completely unseen and unheard. You can be yourself and take your mind off life's stress without the fear of being disturbed.

If you'd like to learn more about our luxury retreat on Mahone Bay, please speak to us. Should you choose to stay with us, we will commit ourselves to provide you with an unforgettable experience.