Mahone Bay – the new "Nantucket" of Nova Scotia.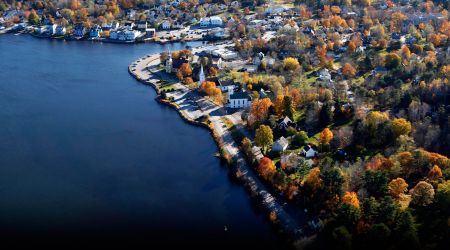 Strum Island sits proudly at the head of Mahone Bay, ideally and conveniently located by boat or barge to all the conventional services on the mainland, but far enough away to be a true, private island retreat. Only an hour from the Halifax International Airport, Mahone is a quaint and historic village where the locals are famous for their warm hospitality. Settled in 1754 and founded on the shipbuilding and logging industries, it's harbor attractions make it one of Canada's top ten town favorites.
Main street is dotted with a variety of restaurants and shops, outdoor plazas, a marina, grocery, and most famously, its three fabled church spires. Mahone Bay's nearby neighbors are the enchanting towns of Lunenburg and Chester.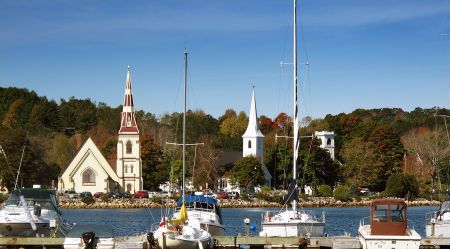 The South Shore of Nova Scotia is immensely popular with sailors and sightseers alike where multiple recreational outlets exist for hikers, boaters, and all outdoor enthusiasts.
Experience Nova Scotia's charm and culture during the area's many annual events like the Bluenose Celebration and the Tall Ships Festival in the nearby UNESCO world heritage site of Lunenburg.
---

Strum Island - A sanctuary of harmony and order.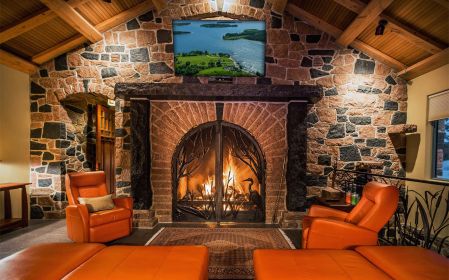 Inspired by the Arts and Crafts movement of the 1920s, Strum Island's main home comprises four stories and approximately 10,000 square feet of living space featuring an expansive third-floor master suite, and private salon, and five additional ensuite bedrooms. The fourth-floor offers an observation tower with spectacular 360-degree views and, above the tower is a traditional light-house inspired Widow's Walk. Made almost entirely of granite, the residence integrates western red cedar, slate roofing, copper flashing, and impact glass to efficiently mitigate the elements requiring minimal maintenance.
Strum Island's landscape, all ten magnificent acres, has been carefully restored by the owner with native vegetation — some 50,000 plants — in order to preserve its natural setting. To prevent erosion, the owner also installed a new sea wall around the entire perimeter of the island.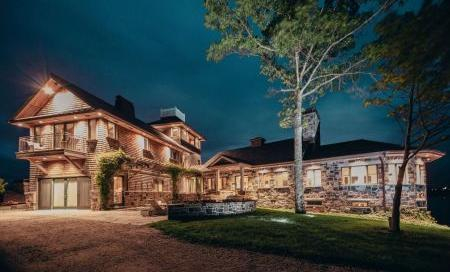 Every individually selected stone, timber, and beam ––– to the artistic wrought iron stair and porch rails, to the intricate baseboards and crown moldings ----- are a testament to the hand-crafted excellence found in this exquisite home.
Particular attention was paid to incorporate furniture grade standards into the construction of this substantial home. A one-of-a-kind walnut-carved bar adorns the Great Room with its spectacular, lodge-like walk in fireplace and dramatic Tiffany-style lighting.
What is remarkable is that Strum Island is totally self-sustaining, with its own source of purified water, heat, electricity, and food.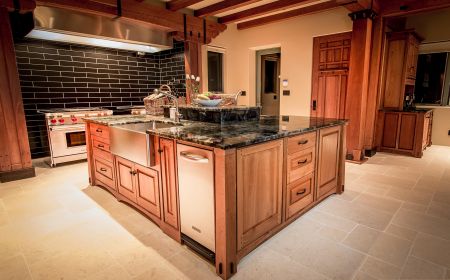 An impressive gourmet kitchen will satisfy the burgeoning menu of a budding master chef or the private musings of an intimate, weekend brunch. A kitchen crafted for a Michelin starred chef, or for a casual family feast.
Seasonal, savory ingredients picked fresh from the garden right to your table. Abundant fresh fruit harvested daily from the Apple, Pear, and Cherry Trees.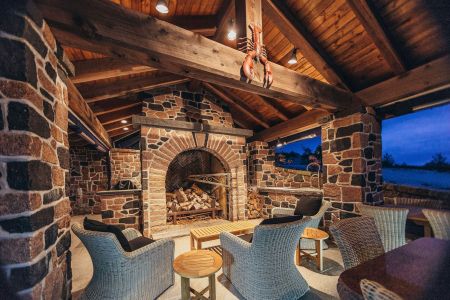 The "Lobster Temple," features a built-in granite table and expansive wood-burning fireplace. In addition, 4,500 square feet of covered and uncovered decks and patios add to the comforts of outdoor gatherings. A short walk up the hill from the main house leads to the "Rose Hut," the island's getaway, complete with hot tub and ever changing but spectacular views. In addition, a two-story boathouse by the wharf comfortably accommodates a caretaker/maid/cook. And, the duel apartment "Wood Shed" houses gardener, maintenance, and other staff, as needed.
---

How To Get There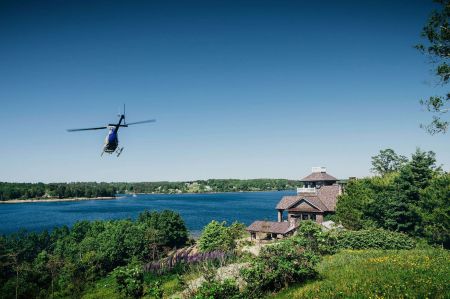 Arrive by air to the island's helipad, or by water from the mainland just a mere three minutes away by boat. The island's 105-foot-long wharf of pressure-treated wood and concrete accommodates a variety of watercraft.
The nearby mainland boasts a 100-foot-long concrete wharf and convenient boat lift. A 1.67-acre parcel has been set aside for another boathouse and home should the new owner desire. Utility services are in place and the remainder have been approved.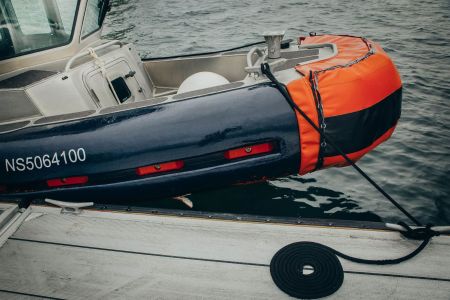 When you're away, a state-of-the-art security system monitors the home, which can be controlled remotely from any part of the world via computer, iPad or smartphone.
Architecturally unique, the features and amenities of this private, secure, coastal property make Strum Island an unparalleled, private retreat, surrounded by the beauty and grandeur of this spellbinding Atlantic, Canadian province.